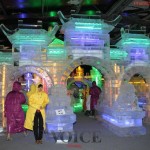 Yangon, Myanmar: The first ever ice museum of Myanmar is now opened in Yangon, KanDaw Gyi Botanical Garden, starting from February 25th.  Chief Executive Officer of Asia Myanmar Consortium Development, U Nyein Aung, told The Voice Weekly News Journal that they had invested 1.5 million US Dollar for the first ice statue museum of Myanmar. Admission fees are 5,000 Kyats (about 6 US Dollar) for adults and 3,000 Kyats (about 3.5 US Dollar) for children, told by U Nyein Aung.  "In foreign countries, admission fees are usually about 12 US Dollar, but here, it is only about half the price.  It is worth to visit." He added.
The admission fees mentioned above are for weekends and it will be 4,000 Kyat (about 5 US Dollar) on weekdays but it is still 3,000 Kyats for the children.  Foreigners will have to pay 10 US Dollar as admission fees. "5,000 Kyats is not bad.  It is truly worth it.  But I think it will be too much for most of the citizens." told by one of the young men who also want to visit but cannot afford the admission fees.  "Umm, I am also excited to visit the museum.  Admission fees is not that expensive, but as I want to visit together with my family, I have to think about the total cost." told by one of the housewives.
The museum will be maintained at -10 degree Celsius and currently exhibiting Statue of Liberty, Eiffel Tower, Mandalay Mont, Some Chinese fairy tale figures and some widely known cartoon figures as ice statues for children. They were sculptured by 20 Chinese Ice Statue Sculptors from Harbin, China, who have been sculpturing since 1st February till 18th February.  And The Voice Weekly Journal reported that those sculptors will create some new statues from time to time to entertain frequent visitors.
As the outside temperature of Yangon is usually about 30 degree Celsius, there is a buffer room which is maintained at 16 degree Celsius.  Visitors need to stay in a buffer room for 15 minutes before entering the Ice Statues Museum.  There is also a medical doctor in stand by for the elderly and those with heart diseases, told by the on-duty doctor, Dr Thinzar Aung.
This Ice Statue Museum was built in "L" shape and now operating 9 am to 9 pm every day.  The Voice Weekly also reported that there is a place for children to ice skate in the museum.  It is the first Ice Statue Museum in Myanmar and 4th in South East Asia.