To solve the demand for new low cost housing or affordable living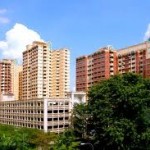 apartment buildings in Yangon one of the construction companies will build low cost apartment buildings on a 200 acres ground which is expected to have enough space for about 60,000 rooms, stated on the proposal made on 8th February. There will be high stories buildings, six stories buildings and other types of housing projects available for people in Yangon.
Rooms will be sold on instalment plan and it is expected to be as low as 50,000 Kyats (about 60 US dollar) per month. Buyers have to pay 50,000 Kyats per month for 5 years for some of the rooms while there are also 100,000 or 200,000 or 300,000 Kyats per month (120 US$, 245 US$, 365 US$ respectively) instalment plans for the rest of the rooms. For the high end condos, payment will be 2,000,000 Kyats (about 2440 US $) monthly for a 5 years plan.
"We have made a proposal to the ruling government and hopefully, we will get an answer from them this month.  If we have permission for the housing project, we will start the construction at the end of this year" told by U Ko Ko Htwe, chairman of Taw Win construction company Ltd.  "There will be schools, restaurants, nurseries, factories and also quarters for the staffs.  We will try to make a small town in Yangon by this housing project."  He added.  If the project can get started, it will take 3 years to complete.  That is why Taw Win Construction Company Ltd. named this project as "Mu Di Tar 3".  Mu Di Tar means rejoicing at somebody else's success or prosperity in Burmese.
"Concerning with the residence in that housing project, we don't want people to live in an unorganized manner. We will make sure that we'll offer a comfortable and convenient lifestyle for every family.  Every room will have to be paid by instalment plan with 20% down payment which the buyers have to settle during the first time payment. Afterwards, it will continue as monthly instalment plan." explained by U Ko Ko Htwe of Taw Win Construction Co., Ltd.
With an affordable housing option in Yangon, each room will be constructed without any partition inside the flat so that residents may need to set up their own partitions for bedrooms or living rooms etc by themselves.  The construction company will only provide hall type rooms, each about 220 square feet.  Due to the statement made by U Ko Ko Htwe, there will be more low cost apartment buildings than high end condos to meet the demands of the general population.
"As for the location of this low cost housing project inYangon, we can only state at the moment that it will be somewhere north ofYangon.  We will let everybody know once we get permission to start our project." told by the chairman of Taw Win Construction Co., Ltd. inMyanmar.