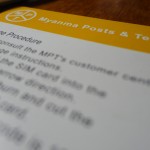 Yangon, Myanmar: In co-operation with Myanma Posts and Telecommunications (MPT) and 23 private companies, low cost GMS mobile SIM cards will be produced in the first week of March. It is the first step of 40 million GSM SIM Card project which is expected to produce 1.5 million in the first week of March according to a statement made by Myanma Posts and Telecommunications (MPT). News Watch News Journal reported that the project will be launched in March and the price of a SIM card will be set at 200,000 Kyats (about 243USDollar). Myanma Posts and Telecommunications will sell 150,000 SIM cards inYangonand 1.5 million nationwide.
A shop manager, Ko Min Min, from Mr. Fone mobile shop said, "We have heard that it will be launched in first week of March but we haven't got any confirmation yet.  If it is true, we will introduce an instalment plan for 200,000 Kyats mobile SIM cards.  Previously, we had a partnership with a private bank, but we will do it on our own this time."
"I have heard that the launch will be on 27th of March (which is Armed Forces Day, a public holiday, inMyanmar) but I have heard various rumours on expected prices.  Actually, it should be 5,000 Kyats mobile SIM card, but I think 5,000 Kyats SIM card is still not possible yet though 200,000 Kyats is not that bad. It's much better than current 500,000 Kyats SIM Card." told by a resident who lives in Shwe Gon Dine township.
Even though SIM card market inMyanmarhas shown a downward pricing trend from 1,500,000 Kyats until early 2010 and then offered for 500,000 Kyats until now; most of the feedbacks from young people is clear that they are still not satisfied with the new SIM prices.  About a month ago, one private company, Shwe Pyi Ta Gon, stated that they can sell GSM SIM card inMyanmarwith 5,000 Kyats but their proposal was rejected by Myanma Posts and Telecommunications (MPT).  Since then most of the young people inMyanmarare disappointed and they are supporting Shwe Pyi Ta Gon in various ways like providing leaflets or sticker campaigns.
Lastly, one of the Facebook users commented that they will persuade citizens not to buy this upcoming 200,000 Kyats SIM cards to show they need a lower cost SIM card which the majority of population can afford in Myanmar.