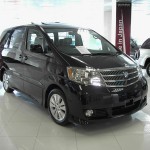 Myanmar car prices: Yangon, there's some criticism about the CIF (Cost + Insurance + Freight) value specified by OSS (One Stop Service) a government branch, on used car that are imported into Myanmar.  Some business specialists point out that current CIF values are giving more profits only to the privileged car importers.
"The cost of Toyota Alphard 2002 models is between 10,000 to 20,000 US dollars, but CIF value for it is only 5,000 US dollars.  It has been planned to import 70,000 Honda Alphard cars and currently there are about 1,000 here with under specified CIF value.  With 1,000  Honda Alphard cars imported, government is loosing about 10 billion with the tax."
"Many things are going wrong with CIF value." told by the car business specialist. "Let's say, even though they have specified the CIF value of the Honda Alphard cars while some other cars like Estima, which only cost about 5,000 US dollar, its CIF value is 15,000 US dollar."  He pointed out.  "To say the truth, we assumed they are giving opportunities to some privileged car importers."
"We don't know how they are setting up the value with used car imports.  OSS should base on Japan auction market or one trusted international car selling website." suggested by one of the car import business owners.  It's has been about 6 months since the ruling government approved to import used cars.  But the tax and CIF values have changed a couple of times and the established car importers have already experienced some losses.
A reporter from one of the leading news portals reported that Myanmar car prices are going on a downward trend in the local car market these days in Myanmar. Compared to January Myanmar car prices, there are about 5,000,000 Kyats (about 6100 US Dollars) difference in high model cars.  "In January, Toyota Mark II was priced about 35,000,000 Kyats (about 42,000 US dollars) and now it is about 30,000,000 Kyats (about 36,000 US dollars). Toyota Harrier which used to be about 50,000,000 Kyats (about 61,000 US dollars) is now worth about 42,000,000 Kyats (about 51,200 US dollars). Myanmar car prices are sure set to decrease once more importers are increasing their stock and more people can afford to purchase a car.