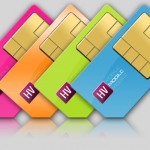 The heat is on with Low Cost SIM card again.  Last week, The Myanmar Times News Journal English Version, the only English language News Journal in Myanmar, put a debate about low cost SIM card at the front page.  And now, another well known news journal, The Voice Weekly, reported that there will be a statement about low cost GSM SIM card in Hlutaw (parliament), but strangely, this time the statement will be submitted by Union Solidarity and Development Party. The Voice Weekly reported that it was made known to the public by Chairman of State Development Council, U Aung Thein Linn, former mayor ofYangon, who is also a delegate of Union Solidarity and Development Party during previous election.
In a report from The Voice Weekly, U Aung Thein Linn said "It will be done for the development of our country.  All citizens will get benefits from the low cost SIM cards.  That is why we are planning to put a statement concerning with low cost SIM card in Hlutaw (parliament)."  The Voice Weekly also reported that Union Solidarity and Development Party is now discussing with technicians and getting suggestions for the statement.
It can be interesting news for the people, but the comments from the citizens are much more interesting than the news itself.  One of the people favorite among online comments is, "U Aung Thein Linn, please don't produce only half-useful SIM cards."  People got much delight with that comment as during previous election, Union Solidarity and Development Party in leadership of U Aung Thein Linn, reformed most of the streets in suburb of Yangon with concrete but they only paved one lane instead of the full two-lane street structure.  It was done by a deal that they would reform the remaining lane if the residences who live in the street vote for their party in election.  It is no wonder why people are so much delighted on the above mentioned comment.
Another comment was written as following, "Union Solidarity and Development Party got a new way to get people's vote.  This time, not with concrete street, but with a SIM Card."  Another one wrote that "whatever it is, it is good for the citizens, but it is not good if ruling government approve the statement just because the party is a big name and had a really good relationship with ex-government."
The Voice Weekly Journal also reported that even though there were some news about government producing lower cost SIM card which is estimated to cost 200,000 Kyats (about 244 US dollar)  in first week of March, there are some rumours that the price is still not confirm yet.