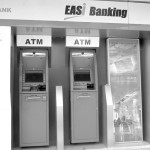 Yangon, Myanmar: Private banks in Myanmar are now starting to roll out ATM machines in shopping centres, convenient stores and gas stations in addition to their own branches. At the time when private banks started to roll out ATM machines, people could only use it at the bank and its branches, but now ATM machines have finally become a common scene in public places in Myanmar.
"We have installed ATM machines in 'Petro K' gas station. Currently we are running trials with the help of our own staff by using the cards provided by the bank." told U Phae Myint, a managing director of CB bank. CB bank currently installed ATM machines at Taw Win Centre, one of the popular shopping centres in Yangon, Junction Centres, which are also well known for their City Mart Super markets. CB bank also stated that they are going to set up ATM machines in more public places.
Currently, banks are providing ATM cards for free of charge and they have not stated the monthly fees they are going to charge after the testing period.  KBZ, one of the private banks is still evaluating the cost for using an ATM card after the trial period and also for the monthly fee.  An applicant needs to open a current bank account and it cannot be linked with a savings account for the ATM card, explained by KBZ bank staff. KBZ bank has recently installed 93 ATM machines in Yangon, majority of them in shopping centres and their branches, 2 ATM machines in Mandalay and 1 in Taunggyi, confirmed by U Zaw Linn Htut, a general manager of KBZ bank.
Further, the Bankers' Association is trying to establish MPU (Myanmar Payment Union) and even though ATM cards are essential in every developing country, The Myanmar Post news journal reported that it is just a temporary solution before government and bankers association cannot establish the MPU yet.  Currently, 13 private banks and 3 government banks are working together to establish a payment union, which they are now calling 'Myanmar Payment Union'.  MPU would be similar to a debit card which is currently being used overseas. Hotels, restaurants, supermarkets, and stores can later accept payment with a MPU debit card. U Ye Min Oo, a Managing Director from AGD bank, said in media conference that they will try to start the trial period for MPU from April 2012, and expected to last for 2 to 6 months.