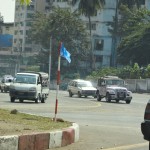 Yangon, Myanmar: FMI, one of the construction and housing companies in Myanmar is going to build overpasses in major traffic areas, investing over $52M USD each overpass; reported by News Watch Weekly News Journal. Yangon, Shwe Gon Dine junction and Ba Yint Naung junction are heavy traffic zones and vehicles are usually stuck during peak hours.  Now, FMI Company will manage to build an overpass in those 2 junctions, confirmed by a Project Manager from the FMI Company.
"We are now testing the ground for the overpasses. For these construction projects, we have provided a proposal to Yangon Municipal Committee and chairman of investment commission and we are going to start this project very soon.  We will start these projects by making diversion lanes.  As construction is going to use one lane, Yangon Municipal Committee will have to implement payments to get a lane back.  It will be a temporary solution during construction." told by the Project Manager from FMI.
FMI company said they will build both Shwe Gon Dine overpass and Ba Yint Naung overpass in the same fashion. Shwe Gone Dine overpass will have 4 lanes on ground and 4 more layers which can hold for 60 T of weight. The Ba Yint Naung overpass will have 4 lanes which can bear 75 T in the first layer of overpass and 2 more lanes at the top most layer of the overpass which can hold for 60 T; there will be three layers all together in Ba Yint Naung overpass.
"The rumors that overpasses will be built in four months are not true. Four month is just a preparation period.  We are still estimating the project dead line. Some experienced engineers fromMyanmarwill work together with foreign engineers and architects in this overpass construction project. In terms of basic workers, we will hire local workers to open job opportunities for them." told by FMI.
FMI company said they are going to build these 2 overpass bridges, just because there are more and more traffic in those areas. They said they are not doing this for profit and they will not collect the crossing fees for these 2 overpass bridges. FMI company also stated that they will build these overpasses by utilizing their own investment and without any help from private banks.  Due to a statement from Yangon Municipal Committee, 5 overpasses are expected to be built inYangonthis year.