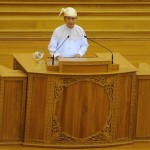 Yangon, Myanmar: Early March, President U Thein Sein provided a speech on his first year anniversary of presidency in Myanmar. The current Myanmar's President said "in one year time, we have achieved some of our goals with regards to democracy and we also had challenges." He also said that it is really good that Myanmar and its government had gained understandings from neighboring and other countries, and therefore will continue to built trust among its people and globally.
"If someone asks me whether we have gained a real democracy? I should answer we have to try more.  We are going to take many steps in our way to democracy. This is a long term project for the people of Myanmar." U Thein Sein spoke in his speech. He also stated that government will try to negotiate between natives of the country to form unity as it is the desire of each and every person of Myanmar.  Political reform in which president is welcoming every person to participate; he also wants the natives of Myanmar to participate in this reform.  "As our country is a union, all natives of our country should have equal rights. Government should achieve peoples' dream of peace and development. We should end the never ending misunderstandings which had happened for many generations with this civilian government."  said by U Thein Sein in his speech.
"I have made up my mind.  I will to my best ease people' minds of worries with this government.  This is also the aim of our government. We have our duties to fulfill the long lost dreams of our people." He added.  He also stated about civil war which is currently happening in Kachin State.  He also said that "as we all need peace and to stand firm in peace with dignity, I urge every citizen to participate."
"With the young men who are currently holding guns, we will try our best to let them hold laptops instead of guns in their hands, we all must try our best from our own parts.  Here, we will warmly welcome local and international aids and investments to fulfill the needs of our country."  He added. U Thein Sein also refuted the rumor that current government is splitting in 2 groups.  "As we are practicing democracy, they only work in their perspectives. It is not true that we are working in our own groups." He also stated his decision upon current affair concerning with raising pay scale for the government officials.  He said, "Just over 3 percent of citizens are government officials and we need to take care with the remaining 96 percents.  Commodity prices will also raise up if we increase the pay scale and we need to consider for the living of remaining 96 percent."  He stated in his speech.
President U Thein Sein provided this speech for about 50 minutes and this is the first ever speech civilian government lets the people know about their tasks and future plans after the military junta had their power handed over to them.