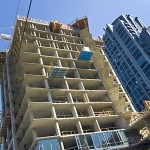 Yangon,Myanmar: Compared to the period when the cyclone "Nargis" attacked the region, Yangon condominiums prices are sky rocketing, by up to 50 percent, reported. Condominiums which were about 90,000,000 Kyats (about 110,000 US dollars) to 100,000,000 Kyats ($121,000 USD) are now 170,000,000 ($207,000 USD) to 180,000,000 Kyats ($ 220,000 USD) made known by the real estate market in Yangon.
"If someone wants to spend 130,000,000 Kyats for a landed house with a large compound, it will only be possible in a place such as 'Okkalar' township (which is one of the remote areas of Yangon) but with that amount of money, a mid range condominium is a possible option in downtown area. So, for more benefits like comfortable and modern housing, convenience of transportation, good security etc. people are starting to choose condominiums." told by U Zaw Zaw, a real estate agent from Unity real estate company.
In the real estate market in Yangon condominiums started to gain popularity about 4 years ago, and since then more and more condominium were built in Yangon by various construction companies. The Voice Weekly News Journal reported that over 200 condominiums were built by only one construction company in Yangon.  Comparing to the Yangon condominiums prices in 2008, real estate prices in Myanmar are up by 60 percent.
Foreign investors and many international organizations are pouring into the country and more and more real estate development is seen in Yangon condominiums, one of the major cities in Myanmar. This can be one of the causes which raise up the Yangon condominiums prices. Real estate agent from Unity Real Estate Company said, "Currently there are more demands for condo rental than buying because of foreign workers from various organizations who need to stay in Yangon for a short period."
"Since cyclone Nargis, it can be said that Yangon condominiums prices went up to full range. With the buying and selling, workloads went up to 50 percent" stated U Aung Myint, a real estate agent from Aung Tha Mar Di real estate company. He also told that many condominiums are being built in downtown areas as well as some popular zones and silent zones of Yangon. In Dagon Township, one of the downtown areas, condominium prices are 140,000 Kyats ($170 USD) per square feet and in Ma Yan Gone and Yankin townships, it is about 110,000 Kyats ($134 USD).