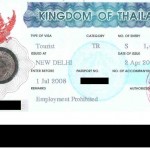 Yangon, Myanmar: Thai Embassy in Yangon recently suspended visa issue to those that applied via travel agents because of fake information given by certain travel agents for visa application at the embassy, told by the visa department of Thai Embassy, Yangon.  "It's because of using fake documents, the embassy started suspending visa issuing .  We are still waiting for the decision from the Bangkok office, concerning this matter."
Even though the embassy held off providing visa applications through travel agents on Monday, it was only known to the public on Tuesday morning so many people who had asked travel agencies for processing their visa were delayed. Usually there are long queues of people at the Thai embassy and most of the people applied their visa through travel agents to avoid the queue.
One of the staff from non-government office shared his experience "I called up the embassy yesterday, and they did not provide a proper answer.  So I asked them to let me speak with visa officer but they only told me to send fax.  When I spoke to the visa officer, I was told that it is because of travel agents. Currently they have two black-listed travel agents for using fake air tickets. Anyway, I got visa instantly.  I saw many people queuing to apply visa at the embassy and the embassy is still providing visa for them, only those with the agents got trouble."
Other individual explains "At first, I applied visa through travel agent.  I was informed they could not apply it now so that I came here in person to apply.  I came here at 7 AM to get a queue number for visa application, but it was already no. 104.  As I urgently needed a visa, I made a request at the visa department and they issued it at 4 PM."
A Myanmar visa is required by all tourists to enter Myanmar. Thailand is currently a major destination for the people from Myanmar and many visit Thailand frequently either for holidays or for business.  Even though Thailand has waived visa fees, there are still some difficulties for the first time visitor to get a visa.  It is still necessary to show their possessions of land, car, telephone etc. to get a Thai visa. If you are considering a Thai visa from Myanmar, you better check ahead of time before making plans.